From TALIA BAIOCCHI, Special to THE SAN FRANCISCO CHRONICLE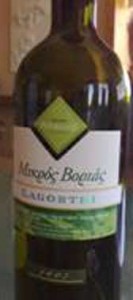 Mantineia, the Peloponnese, Greece — Sunday, June 26, 2011

This should be the time to be a Greek winemaker.  The country is amid a quality revival of world-class wine regions from the islands to Greece's northern border.
But no matter the centuries since Sophocles ruled the stage, the Greeks still remain disposed to a good old ancient bout of reversed fortunes.  The trouble this time? The economy.
Wine sales within the country are down more than 40 percent over the past 12 months, threatening a newly revived industry that, until recently, sold 90 percent of its production at home.
Yet this pinch might provide a push for Greece to make a lasting impression elsewhere in the world.  Potential tragedy may well be averted.  « Before, Greek winemakers wanted to see wines exported, but there wasn't enough of a reason to put that much effort in, » says Markus Stolz, an export agent in Greece who is working with several U.S. importers, including Oakland's WineWise.  Now there's certainly a reason.
(suite…)