By TED LELEKAS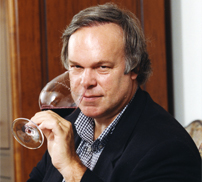 Shortly before Christmas, the latest list of rated Greek wines was published on erobertparker.com. The list was put together by Mark Squires, wine critic and a member of Robert Parker's expert team, who has been assigned to cover the wines of Israel, Greece, Lebanon, Cyprus, Bulgaria and Romania.
The list contains 109 rated wines from wineries across Greece. 15 of those were deemed « oustanding« , in other words received a rating of 90-95/100. Interestingly enough the top 3 spots were won by dessert wines, and namely by the 2003 Vinsanto by Domaine Sigalas in Santorini (94/100), the 2003 Vinsanto by Santo Wines in Santorini (93/100), and the 2003 Muscat de Rio by A. Parparoussis in Patras (92/100). Further dessert wines, including a Grand Reserve bottling of Mavrodaphne, Greece's historic fortified wine, have also received top marks, and claimed their place in the « outstanding club lounge » of this year's ratings.
The rest of the top 5 was populated by 2 wines made of indigenous varieties a red Xinomavro from Naoussa (Domaine Karydas 2006, 91/100) and a white Assyrtiko from Santorini (2008 Gaia Thalassitis, 90/100). Wines by indigenous grapes were very well-represented and regarded across the entire list of 109 rated Greek wines by Mark Squires, although he did mention that a large number of Greek winemakers are « doing some nice work with international grapes ».
In my opinion the biggest triumph in this latest set of ratings belongs to the dessert wine category, which is consistently underrated in the domestic market. This latest development further fuels a Greek wine industry paradox, whereby Greek dessert wines are recognised and celebrated in most major international markets, they alone comprise the highest quality category in the Greek wine legislatory framework (OPE), still they are sold at very low prices in the Greek market, where they still don't seem to enjoy the reputation and market preference that they deserve. This is probably because Greece's food & wine culture cannot (yet) find a regular place on the table for dessert wines, and is especially hesitant to match them with various (including savoury) flavours.
Parker ratings are highly regarded in Greece, both in the wine trade and amongst oenophiles, although they rarely result directly to price and demand increases, as is the case in other markets. Still, we are always happy to see our wines being rated by influential wine critics across the world, especially as in their majority they highlight the value and potential of our excellent indigenous grape varieties.