By LINCOLN SILIAKUS, Thursday 25 June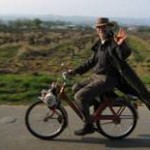 It's the end of the last day of Vinexpo 2009, the world's largest wine show. 
It's supposed to finish at 4pm, but everyone starts winding down at lunchtime. 
Business is slow, and people are tired after 5 days of sipping and selling.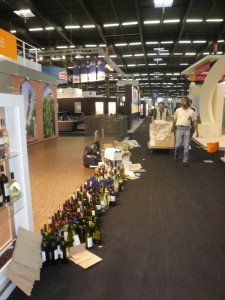 I should have caught a train back to Paris in the afternoon, but I'd bought a ticket for the following day, God knows why.  With a handful of other journos, I work in the press centre as the stands are dismantled outside.  The road less travelled is also being out of synch.  My work done, it's a fin de siècle feeling to walk the kilometre-long hall, with bottles and rubbish everywhere, the partitions collapsed in piles, the veneer of glamour gone, and the straw blondes with plunging necklines replaced by sweaty workers.
When I get off the bus at Bordeaux centre, I take the tram along the river to see the old buildings in the sunset.  Rather than return by tram, I stroll back along the docks, past renovated warehouses now dedicated to an appalling series of shops for airheads called the Quai de Marques.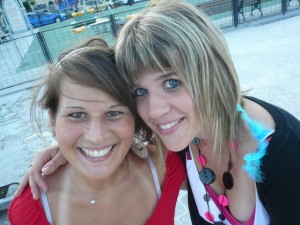 A couple of teenage girls drink sweet white wine out of a bottle.  A fellow on the phone sits by their side.  The girls catch my eye. I ask them if it is good. "It's all we can afford," they answer. We take facebook photos of each other. I take a swig of the Bordeaux moelleux, even more putrid than I'd feared.
As late as it is, there is still a good hour left in the sun, deep and bright light bouncing off the water.  Restaurants are cool and clone, drum and bass, trance and chill à la London/Detroit/St Germain/Berlin. The food looks gruesome.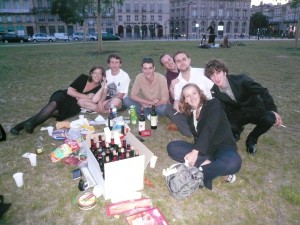 But what's this? A group of neat young things sitting in a circle on the grass with a large carton of bottles in the middle.  All of the bottles are open.  Some have corks, others have rubber vacuum stoppers.
—  "Vinexpo?" I ask.
—  "Yep. We've been on a stand.  St-Émilion Grand Cru.  Here, La Gaffelière 2008.  Been open all day, though. Sorry about the plastic cup."
I join their circle and we talk about wine. Who wouldn't?
It turns out they are all students, some doing wine law, others marketing.
They fire questions at me, wanting to know everything about my Solex trip, my take on the world of wine, image problems, the environment, World Heritage listings, and so on.
Smart, modern, travelled, English-speaking. With folk like this, we can all be a bit more optimistic about the future of French wine.  I'm swept away by their energy, the wine and the simple charcuterie and cheese they bring out.
—  "We have food for fifteen.  Join us," they say.
It would have been illegal in the US and Australia.
Linc