By TED LELEKAS
The entire Greek wine sector is celebrating, after the recent U-turn by the European Union Agriculture Commissioner Mariann Fischer Boel, who finally decided not to allow the blending of red and white wine in order to produce r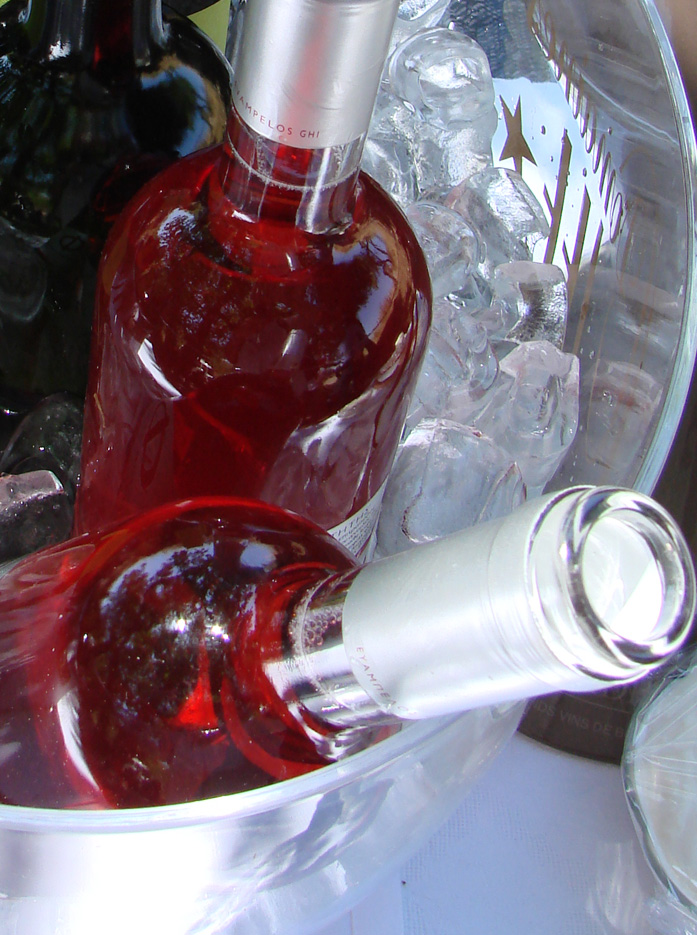 osé.  Despite the fact that rosé is perfectly suited for the Greek climate, cuisine and general way of life, it is only recently that Greek oenophiles have started taking rosé seriously, overcoming negative stereotypes of the past.
This process has been significantly facilitated by a large number of established wine producers who made the commitment to create good quality rosé wines, and at the same time to take steps to educate the market on the merits of rosé wine.
The majority of Greek wine producers were outraged by the Commissioner's initial move to consider lifting the ban on blending, as they feared that this would seriously undermine their efforts at the same time as rapidly diminishing the level of quality of rosé wines available in the market. Shortly after the announcement that the EU has finally bowed to the pressure of the massive outcry (and lobbying) of winemakers and their associations, especially across Southern Europe, a group of leading Greek winemakers, who are also renowned champions of the rosé cause, come forward to share their views on what (almost) happened:
Apostolos Mountrichas of Avantis Estate in Evia, commented, « Lifting the blending ban would have been a totally wrong move, both from the qualitative and from the commercial point of view. The key in the vinification of a quality rosé wine lies in balancing a multitude of factors, such as the phenolic ripeness of red grapes, the maximisation of acidity, and, of course the maceration of the grapes that can last up to 20 hours – in the case of rich rosé wines. To equalise all the above with the simple blending of unwanted stock in favour of large wine industries across Europe would have been simply despicable.« 
Stelios Boutaris of Kir Yianni Estate in Northern Greece, added, « Wine has become a product that is split in two categories: Fine wine, that has an origin, a tradition, a specific way to make it and, overall, a provenance, and Table wine, that is treated as any other consumer product. I believe that in the first category, no blending of white and red for rosé should ever be allowed, by no means. In the case of table wine I don't have a problem; it is a practice that, I am afraid, is performed today anyway. »
Louisa Dougos of Dougos Winery in Larissa, stated, « Rosé wines have been created according to a specific technique throughout time, and this must not change. Ever since the ancient times, wine is the result of the alcoholic fermentation of grape must, and it is certainly not a product that is manufactured in the lab. Greece is a country that produces superb rosé wines, such as those derived from our native grape variety, Xinomavro, and it would be wrong to reach a point whereby red and white wines would be blended indiscriminately, simply to serve particular interests. »
Marianna Kosmetatos of Gentilini Wines in Cephalonia, commented, « Rosé wine is just starting to make a comeback, championed by serious winemakers who strive to make fine wines using proper – and painstaking – methods. Much investment has also been committed to marketing these wines, and this has started to make inroads in consumer perceptions over the last few years. Had the EU legislation changed in this particular point in time, it would have resulted in a flood of low quality wines, and it would have harmed the reputation that rosé wines have struggled to build – this time perhaps irreparably. »
Dr. Yannis Paraskevopoulos of Gaia Wines in Nemea and Santorini, concluded, « In our rapidly changing world, new wine-making techniques – sanctioned by the European Union – are bound to come into effect, creating a new category of « a la carte » wines and eliminating the importance of factors such as terroir, vintage, and, of course, any element of uniqueness in wine. This will inevitably lead to the creation of a large volume of new wines (or, rather, new products), designed to respond to the changing needs of traditional and new markets. Having said that, the blending of red and white wine to create rosé is already taking place anyway. As a matter of fact, it is, as we know, established by law as the traditional vinification method in one of the world's most famous AOC regions, Champagne. At the end of the day, I believe that, whatever happens, it is important that certain wines can be allowed to stay old-fashioned – or, as I would call them, original – so that they can be recognised as such, and they can enjoy the reputation that they deserve. »
The Greek wine world in unison is hoping that this will be the end of this controversial debate, and is looking forward to a long and warm summer that will be enjoyed best with the help of the surerb rosé wines that are produced in almost every wine-making zone across the country.
telegourmet.org