By LINCOLN SILIAKUS
No, not mine!
I have never parked my own Solex in such a compromising place…
Mind you, Solex had rolled into Sablet on 20 June after 6 weeks on the road, and less than a month later my first book about my 6-week adventure from Chablis to Sablet has hit the streets.  My very well behaved Solex was parked in the middle of Sablet, as I released the first version of my book about the trip. It has short vignettes (bilingual) about each of the vintners I met and a good photo of each.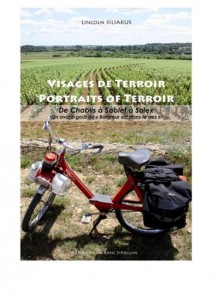 On Saturday 18 I had hoped that the tents would not blow over as it was mistral time (the wind which roars down the Rhône valley when it is sunny down here and lousy further north).
My publisher, the inimitable Jean-Francois Mouriot, was struggling in traffic jams on the A7 north of Orange. As soon as he arrived, we unpacked the books and I started signing.
Thousands of avid readers descended on Sablet to grab our books and listen to our brilliant talks. The winery gardens resounded with the erudition of writers as they expounded on their ideas.
The book sold honourably over the weekend.  Better still, I received a price : the inaugural French wine tourism award from the web magazine Winetourisminfrance.com.
Linc
Lincoln Siliakus « Visages de Terroir, Portraits of Terroir : De Chablis à Sablet à Solex, un avant goût du « Bonheur est dans le nez » » (Editions du Banc d'Arguin) was launched this weekend at the annual Sablet book fair, the Journées du Livre de Sablet.