From ADAM LECHMERE | Wine Searcher London | Saturday, 14-Jan-2017
Cynical wine journalists tend to hear alarm bells when wine merchants tell them to « believe the hype » – but in the case of Burgundy 2015, there's more than a grain of truth to the pre-vintage excitement.
Burgundy 2015 is beguiling, charming, seductive and eminently drinkable. Sommeliers, buyers, wine merchants and critics buzzed up and down Pall Mall, across Piccadilly to Mayfair, and over to the ancient halls of the City with increasing enthusiasm as London en primeur week wore on.
© BIVB/Armelle Hudelot

|

2014 Merchants are uniformly positive. « Believe the hype, » Berry Bros. & Rudd told its clients in an early e-mail. « The 2015 vintage is a truly great year. It's everything that was good about 2005 and 2010. »

Lea & Sandeman called it « a really cracking year… you had to try quite hard to make bad wine anywhere in Burgundy in 2015« . BBR chief Dan Jago told Wine-Searcher: « It's glorious in a way we haven't seen in living memory. It has this restrained purity. It's consistently good from bottom to top. »

It's not just the merchants that are delighted. This is a vintage for everyone: there is quality at every level and in every appellation. « I don't know what it is about this vintage, but the cheaper the wine, the more I seem to like it, » one critic said.

Basic-level Bourgogne Rouge and Blanc, and the less outrageously priced appellations – Mercurey, Rully, Saint-Aubin, Marsannay, Savigny – are all showing wines of wonderful depth and concentration. The hot, dry midsummer, followed by a cooler, damper August, produced small-berried Pinot Noir with thick skins and intense color and flavor. Tannins are soft, acidity – while not high – brings freshness.

Above all, it's a charming, approachable vintage. « These are wines that are relaxed with themselves, » said Matthew Tipping, the commercial director at Jeroboams.
« We've been waiting for a vintage like this for years, » said master sommelier Gino Nardella, who runs the wine department at upmarket London hotel The Stafford. « It's fragrant, beautiful, clear and pure. There's nothing that will last forever, but it is lovely now. »
2015 is an excellent vintage, then, but it was not an easy one. It demanded nail-biting attention to picking dates and neat work in the winery – cold fermentations and the gentlest of extractions, for example. Almost everyone picked early, fearful of falling acid levels.
« It was thirty-eight degrees centigrade on 29 August, » Guillaume Tardy of Domaine Jean Tardy in Vosne-Romanée said. « For two weeks before harvest I was so scared of overripeness. I decided we will pick on 5 September to keep the natural acidity. »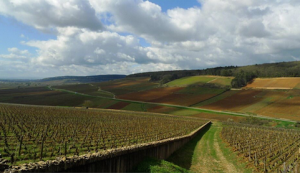 Chardonnay producers, even more nervous of losing acidity, started bringing in grapes up to ten days earlier than normal. At Domaine Blain-Gagnard in Puligny-Montrachet, they started six days earlier than normal on 31 August; the same was true at Domaine Borgeot's vineyards in Santenay, Chassagne-Montrachet and Puligny-Montrachet.
It worked. The best Chardonnays are effortless, bursting with aroma, their palates delicate, the acidity brisk and fresh, the power and energy beautifully restrained.
But the white 2015s are not nearly as consistent as the reds. The top estates are as confident as you would expect, and at the more affordable end there are some very fine, fresh and aromatic wines (Chablis is notably successful, as is Macon, Rully, Givry, Saint-Aubin and Pouilly-Fuissé), but there are also many whose soft acidity and lack of mid-palate is a disappointment. 2015 is a great and consistent red vintage; the whites, as many have noted, simply don't have the staying power and energy of the magnificent 2014s.

Overall, this is a vintage of tremendous and immediate charm. Critics noted again and again that these were wines you could take home to dinner straight away. « It's a good-to-go vintage, » restaurant consultant Giles James told Wine-Searcher. « There are so many seductive, realistic wines. » James was one of many restaurant and gastropub buyers who quickly identified 2015 as ideal for the on-trade.
As to price and availability, stocks are low, and Burgundy is not getting any cheaper. 2015 was a small vintage after a string of similarly short years – and 2016 is catastrophically low. The best wines are at premium and allocations are being fought over. Prices are high (Armit's head buyer James Snoxall said theirs were up 35 per cent on last year).
The great consolation is that there is so much choice. If Premier Cru Mercurey brings as much pleasure as Volnay, and is considerably easier to get hold of at a price that won't leave you gasping, you shouldn't find the decision a difficult one.