From WINE SEARCHER – Last updated 19-Dec-2016
Gevrey-Chambertin – a village in Burgundy's Côte de Nuits district – produces some of the world's most prestigious and expensive red wines. The village is home to nine Grand Cru vineyards, comfortably more than any other Burgundy village (the nearest contender is Vosne-Romanée). Eight of these feature 'Chambertin' somewhere in their name (*), in homage to the most respected among them: Le Chambertin.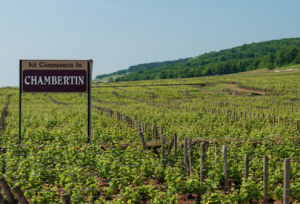 Although the Grand Cru wines attract the most attention, those made under the village's standard Gevrey-Chambertin appellation are held in very high regard. Just like their big Grand Cru brothers, all Gevrey-Chambertin wines are made almost exclusively from Pinot Noir. Widely regarded as being Burgundy's most full-bodied and structured, the village's wines have a particular intensity of color, aroma and flavor about them, not to mention impressive longevity. Well-made examples can develop in the bottle for several decades. These qualities, combined with the village's solid reputation and relatively large production volumes, have earned Gevrey-Chambertin a reputation as the 'king' of Burgundy wines.
The Grand Cru vineyards lie just to the south of the village, on the mid-slopes of the Côte d'Or escarpment. These nine distinct climats, each with its own appellation, collectively occupy a 500m-wide belt between the village and its boundary with Morey-Saint-Denis. The Grand Cru climats produce the commune's most expensive wines. The Premier Cru vineyards are located just west of the village, on the higher slopes of the Côte d'Or, at elevations of 250–350m. The most respected of these are Clos Saint-Jacques and Les Cazetiers, both of which are regularly cited as being of Grand Cru quality. To the east and north lie the swathes of village-level vineyards, which produce more wine each year than almost any other Côte d'Or commune.
The Gevrey-Chambertin appellation covers well over two million bottles of wine per vintage, produced from 435ha of vineyards. This figure includes all premier cru wines, but not the Grand Cru wines, which have their own separate appellations.
Among the most respected producers of Gevrey-Chambertin wines are Domaine Armand Rousseau, Domaine Fourrier, Domaine Leroy and Domaine Trapet Père et Fils. Naturally the large négociant houses have not failed to include the village in their holdings; the portfolios of Louis Jadot and Domaine Faiveley both feature a Chambertin Grand Cru, several premier cru wines and an 'entry-level' village wine.

The village (above) was originally called just Gevrey, but in 1847 the parish council added the name of the most prestigious local vineyard, Le Chambertin. This started a trend that ran the length of the Côte d'Or, right down to the 'Montrachets' (Puligny and Chassagne) in the south. There are now 11 Côte d'Or villages whose names refer to their most prestigious vineyard site.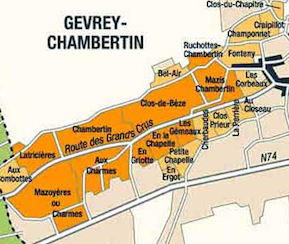 (*) CHAMBERTIN-CLOS DE BÈZE: 14,67 ha; CHAPELLE-CHAMBERTIN: 5,48 ha; CHARMES-CHAMBERTIN: 28,43 ha; GRIOTTE-CHAMBERTIN: 2,65 ha; LATRICIÈRES-CHAMBERTIN: 7,31 ha; MAZIS-CHAMBERTIN: 8,27 ha; RUCHOTTES-CHAMBERTIN: 3,25 ha; MAZOYÈRES-CHAMBERTIN: 1,82 ha
CHAMBERTIN : 13,62 ha