By BOJAN KAVCIC / AFP on August 12, 2015
A new generation of exciting wines is emerging from one of the least expected places – Slovenia.
The small nation has in fact a flourishing viticultural tradition stretching back some 2,400 years to the Celtic era, long before the Romans introduced winemaking to France and Germany.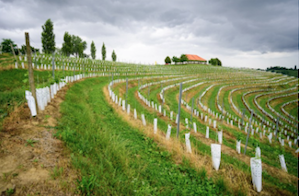 Wedged between Italy, Hungary, Austria and the Balkans, Slovenia benefits from mineral-rich soils and a continental climate, making it ideal for producing racy white wines.  The reason they have remained a secret until recently is largely because of Slovenia's history as a former part of communist Yugoslavia.  Under the rule of dictator Josip Broz Tito, the country's wine industry was nationalized and vineyards were turned into state-run cooperatives. For decades, not a drop was exported and even today most of the wine is still consumed locally, with each of the two million inhabitants drinking an average of 39 liters per year.
(Above, the wine cellar in the cottage Malek of the Puklavec & Friends Wineries. Photo: JURE MAKOVEC / AFP)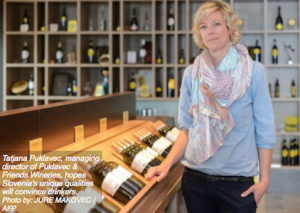 "We come from a country no-one knows, we have a wine no-one knows and we have grapes no-one knows, so we have to be better than the rest," said Tatjana Puklavec who runs the "Puklavec and Friends" (P&F) winery in the northeastern Ormoz region, known as the "Tuscany of the East".
Debuted at a fair in Amsterdam in 2010, the brand's white wines proved an instant hit with international crowds and are now selling all over the world. "Buyers said, 'finally something new from the old world'," explained Puklavec.
The secret lies in combining well-known grapes with the local Sipon variety (known as Furmint in Hungary) known for its high acidity and herbal yet fruity-fresh taste, she added.  This intriguing mix, coupled with the soil, gives Slovenian wines a unique taste that has puzzled wine experts all over the world. "They say, 'I cannot even think about what this reminds me of because it's so unique'."
Decline and rebirth
P&F makes its wines in a seven-storey cellar dug by Puklavec's grandfather and other regional winegrowers in 1956 on the border with Croatia.  Across more than 1,100 hectares, the winery grows Sauvignon Blanc, Pinot Grigio, Welschriesling, Traminer, Chardonnay, Pinot Blanc, Muscat and Sipon (Furmint).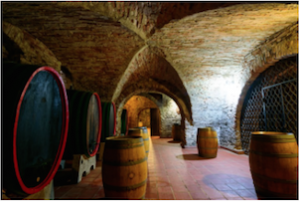 The most precious drops are found in the archive cellar, which stores 270,000 bottles of the finest wine produced by the winery, dating as far back as 1956.  Although winemaking is a family tradition, it looked at one point as though the business had completely faltered, Puklavec recalled.  In the 1950s, her grandfather – a small winemaker with "an entrepreneurial vision" – joined forces with 40 other growers to create a cooperative in Ormoz, then still an underdeveloped region.  But his early death in 1969 left the company drifting with little success. His son, Vladimir, had moved to Germany and started another business.
Above, the wine cellar in the cottage Malek of the Puklavec & Friends Wineries. Photo by: JURE MAKOVEC / AFP
Then, seven years ago, "(my father) got a call from an old school friend who told him that the Ormoz wine cellar was for sale," Puklavec recalled.  Despite being wine novices, she and her father decided to buy the business in 2009, bringing on board promising winemaker Mitja Herga.  "We agreed that we would like to produce fresh, fruity and mineral white wines," Puklavec said.  The move paid off: P&F wines now make up nine percent of the national production. In 2014, the company was voted Slovenia's Winery of the Year, beating more than 170 other producers.
But for now, P&F remains part of only a handful of Slovenian wineries large and successful enough to sell overseas.  A majority of producers own less than one hectare of land, and the country still only exports around 10 percent of its wines.  There is still plenty of room to grow.  "It is our mission to continue what my granddad started: to make the best possible wine and share it with the world."
© 2015 Agence France Presse