AFP-JIJI — PENGLAI, CHINA — Oct 20, 2013
The world's fine winemakers have exacting standards for soil, climate and cultivation to produce the perfect grape. And they are looking to re-create that unlikely blend in China, which is better known for cheap mass production. The potential harvest will be more drinkers in the world's most populous country, where wine consumption more than doubled in the four years to 2011 and is set to rise another 40% by 2016 (*).
France's Domaines Barons de Rothschild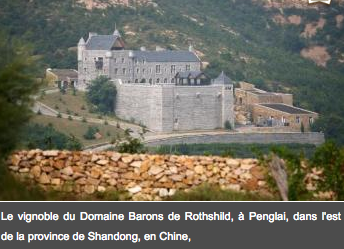 (DBR), maker of the renowned Château Lafite red wines, is planting roots in China with an initial 15 hectares in Penglai.
The estate is situated on a hilly green peninsula dotted with vineyards on the east coast of Shandong province with a century-long history of winemaking.
DBR is associated with CITIC, the first Chinese State Investment Bank.
Its great rival, French luxury group LVMH — owner of Dom Pérignon Champagne, among other brands — has 66 hectares for sparkling wine in the up-and-coming wine province of Ningxia in the north.
LVMH is also harvesting its first cabernet sauvignon and merlot grapes from 30 hectares in the cool hills of southwestern Yunnan. "It's a new world," said Jean-Guillaume Prats, who oversees the firm's wine division. "No one knows really where and how vines should be grown."

These three areas' winemaking reputations are just beginning to develop, with experts gaining confidence in Ningxia — whose products have won international tasting competitions — and seeing promising conditions in Yunnan, but worrying that Shandong's wetness could encourage disease.
Even so, bottled results could still take years, as winemakers experiment with the terroir — the soil, climate and other conditions that influence the grape — going so far as remaking the land to improve their odds.
China's first wine company began production in Shandong in 1892, but a tradition of high-quality vintages never took root.
DBR chose the province after scouting several sites and has spent years blasting through thick layers of rock and digging up earth to create the ideal soil depth, said vineyard director Olivier Richaud.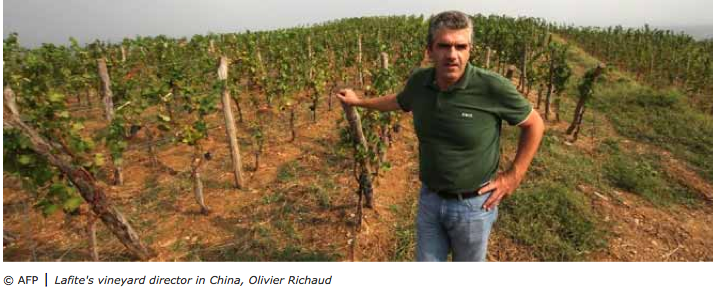 To counter the summer rain, leaves on each vine — most of them cabernet sauvignon, but six different varietals in all — are thinned to give the grapes more sunlight, and weeds have been planted between each row in order to absorb more water.
"Everything is completely different from what the company is used to in all the vineyards we have," said Olivier Richaud, standing amid rows of terraces overlooking green hills and a lake. "Until the end we won't really know what quality we should get."
For its part, LVMH settled on Yunnan after a three-year search for elements such as good summer months, natural soil drainage and access to water. « The area resembles Bordeaux but at a higher altitude, » says Prats, « but it could be a decade before the firm makes something it is happy with, » he added.
Chinese vineyards have only recently begun to gain respect for quality, with a Ningxia vintage even winning the title of best Bordeaux-style wine at the 2011 Decanter World Wine Awards in London.
(*) according to Vinexpo, the industry's top trade-fair organizer.