From The INDIAN WINE ACADEMY Newsletter, January 11, 2013
The Champagne producers will be restless once again when the Korbel 'Special Inaugural Cuvée' sparkling wine will be served with the dessert at the inaugural lunch on January 21, at Capitol Hill. The Champagne Bureau in Washington has urged the White House not to print just « Champagne » on the menu.

The menu published in advance mentioned a « Special Inaugural Cuvee Champagne », to be served with the dessert — Hudson apple pie, sour-cream ice cream, aged cheese and honey.
The way it was supposed to appear on the menu of the inaugural lunch, Korbel Russian River Valley Natural 'Champagne', « is not correct » protested the US Champagne Bureau chief in Washington Sam Heitner, explaining that « the geographical place of production has to appear next to the word Champagne.« 
Following an agreement between the EU and the US in 2006, the American producers who used the generic term Champagne before that year were allowed to continue, with the obligation to specify the production origin such as « Champagne of California » or « Champagne of New York ». After that date, the use of the word Champagne has been banned as elsewhere in the world except in France.
Champagne follows a strict policing policy throughout the world to keep the geographic origin protected. In India for instance, Champagne Indage was forced to remove the word from its company name. Sula started its sparkling wine by calling it « Champagne » but quickly reverted to Brut. Similarly Zampa wanted to call its bubbly Zampagne but sense of wisdom prevailed and they called it Zampa Brut.
It is the eighth time that the Korbel Russian River Valley Natural sparkling is being served at a presidential inauguration, a tradition started in 1985 with Ronald Reagan.

Korbel Special Cuvée sparkling wine ($14 for a regular Brut)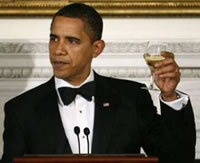 was  served as the dessert at the inaugural lunch on January 21, 2009, attended by 237 guests including former US Presidents Bush Sr., Carter, Clinton and Bush Jr., as well as Supreme Court judges, members of the Congress, senior Cabinet officials and political and government honchos.
Korbel has been making sparkling wine for 120 years, using the « traditional method » of second fermentation in the bottle. It was the preferred bubbly during Kennedy's years at the White House.
Once again, it will be served with dessert to over 200 guests in the Capitol Building at the lunch following the swearing-in ceremony of the reelected President Barack Obama on January 21, 2013.
The French Champagne Bureau chief said that « US law clearly states the full name of the wine lable must include where it comes from », adding « Under the law, it has to state 'California  Champagne'. Champagne only comes from Champagne, France", he concluded.
Sam Heitner said that the idea is not to depreciate the American sparklings but to ensure that consumers are not misled.
To put an end to the fevered situation, the inaugural committee promised that the menu will duly mention 'California Champagne'.
Photos AFP