By SUHBASH ARORA — from The INDIAN WINE ACADEMY Newsletter, July 16, 2012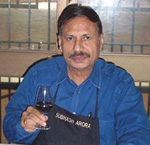 For many wine drinkers, the sight of screwcaps on a bottle indicates a cheap wine. But screwcaps they have become increasingly popular with winemakers around the world including India, even as the opponents believe corks are a must for ageing wine. But now University of California, Davis, has been commissioned to conduct an independent two-year study to evaluate the closures.
The Bottle Aging Closure and Variability study is being conducted in partnership with the PlumpJack Group, a corporation using both screw caps and corks for premium labels.  The two-year study aims at comparing the effectiveness of screwcap as compared to natural and synthetic cork as wine closures.  Bottles of 2011 Cade Napa Valley Sauvignon Blanc, the Fumé styled barrel fermented wine from Cade Winery owned by the Group, has been chosen for the study.
Sustained amounts of oxygen may lead to degradation in taste and colour.  Unlike corks, a screwcap (or screwtop) doesn't let oxygen into the bottle.  It also ensures that a wine won't get corked (provided it was not corked during the processing because of unhygienic conditions in the cellar) – cork can be tainted by the chemical compound TCA (2,4,6-Tri Chloro Anisole) during its manufacture, leading to musty wines.
Questions like whether a bottle of screwcap wine age as gracefully as a bottle with a cork, or screwcaps trap unpleasant hydrogen sulfide aromas that might otherwise be vented by porous corks, are being addressed in this independent study.  The goal is to provide direction to the industry so that vintners can make informed decisions.
« While natural corks have been used effectively for thousands of years, they are no longer a sustainable method of closure, » said Andrew Waterhouse, a Professor of viticulture and enology at UC Davis.  « With this study we hope to scientifically analyze the effectiveness of other closure methods and provide information and directions to the industry. »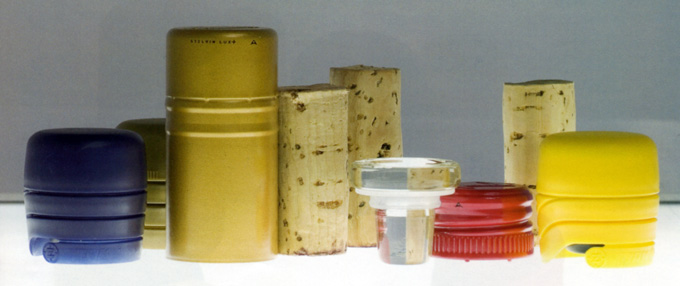 The two-year study will analyze wines under three different types of closures generally in use — screwcaps, synthetic corks and natural corks. Glass enclosures (above pic) are apparently not a part of the study.  The test group of 200 bottles of Cade Napa Valley Sauvignon Blanc 2011 will be monitored every few months using a spectrometer to detect changes in colour.
The wines will also be chemically analysed using oxygen sensors placed inside the bottles.  The sensors allow the researchers to measure how a wine is aging without opening the bottle.  The wines that show differences will be opened at the end of the study and tasted to determine if the quality has been compromised.
The study will determine the range of differences in each closure group, specifically how much oxygen has been allowed into the bottles.  When oxygen interacts with a wine it causes oxidation, changing its colour and taste.  Corks and screwcaps limit the amount of air the wine in the bottle is exposed to, preventing it from aging prematurely.  « It's really a variability study, » said Dr. Waterhouse.  « We want to see how different they can be between themselves. »
The PlumpJack Group, which owns two wineries in Napa Valley including Cade, as well as two hotels, a wine shop and several restaurants, has been conducting in-house studies on the aging potential of screw caps since 1997 but decided to approach UC Davis, an independent body to assess the closures, making it an important study.  It is not the first scientific study to be conducted on screw caps but it does employ new technology and is independent.
Though many vintners find it hard to market screwcaps to consumers, a company spokesman says the younger generation of wine drinkers is willing to embrace alternative closures.
The Indian Wine Industry has seen a paradigm shift during the last 5 years or so with a strong move towards screwcaps and the market accepting them (see comment below).  The leading producer Sula has completely shifted to screwcaps barring their recent top-end variant Rasa, a barrique fermented Shiraz (retail price Rs.1100 in Delhi).
Similarly, the UB owned Four Seasons uses cork only for the Reserve range — Barrique Reserve Cabernet Sauvignon and Barrique Reserve Shiraz (retail price around Rs.900).
Grover Vineyards which had initially been reluctant to change when Sula had pioneered, shifted to screwcaps and today only their La Reserve is in the cork.
The common thread is the same in all the three top wineries-use screwcaps for young drinking wine and where aging potential is the key, they still owe allegiance to the cork.
Concours Mondial de Bruxelles, Guimaraes, Portugal, May 4, 2012 — During the first day tasting session at CMB, about 2,600 samples in competition were scrutinised by 300 international experts.  The far dominant proportion of corks on the samples (in the left glass container below) is eloquently indicative of the current gap between cork and screwcap closures.