From THE INDIAN WINE ACADEMY Newsletter — 31 August 2011
While the Indian government dissuades citizens from drinking wine by levying high taxes and making the procedures complex and too difficult to follow, the Russian President Dmitry Medvedev made an encouraging statement last week that Russians should drink more wine to fight widespread alcohol abuse.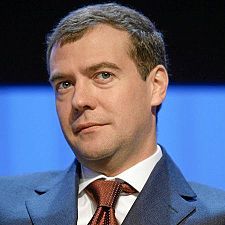 'Wine Sector is one of the segments that should be developed and contribute to the eradication of alcoholism,' President Medvedev said at a meeting with the governor of Russia's southern Krasnodar Territory — a region with a sizable local wine industry, according to a report in Decanter.
'Countries where this sector is strong have no problems with alcohol abuse: problems with alcohol abuse stem from other drinks,' he was reported to have said, indicating that this was not a mere political statement bordering on theatrics but his genuine belief that wine drinking can realistically keep the alcohol consumption in check.

Russia has been facing the growing problem of alcoholism for many years. Recent Government action against alcoholism has been rather irrational and does not differentiate among alcoholic beverages — a common situation with India.  According to a law issued last month, even beer will have to be considered an alcoholic drink by 2013, a decision that has not been well received by the people. Recently there has been a ban in Moscow prohibiting sales of vodka after 10pm.
Former Russian President Mikhail Gorbachev, whose favorite drink was mineral water was a hero in the West but he was hated at home for his efforts to tackle Russia's alcohol problems which most people blame on their love for vodka.  At one stage he even sent in tanks to destroy vineyards in its wine producing constituents Georgia, Moldova and Armenia.  But things have changed recently and there are efforts to promote the local wine industry in Russia and increase the vine plantations.
Despite the encouraging statement by President Medvedev, the laws and procedures regarding sales of wine seem to be archaic, just as in India.  The legal difficulties in obtaining wine import licenses have contributed to reduced availability of wine for the consumers, according to several importers.  The question of wine imports from Georgia, the most-consumed wine in Russia and Moldova has not been resolved and their wines continue to be banned.
The Russian government appears to have secretly taken advice from their Indian counterparts where the excise duties and sales, being a state subject under the Constitution, have been kept unreasonable, with complex and archaic procedures and policies in most states.
Although not as high as in India, the import duties are also high in Russia, bringing the cost of any imported wine reportedly to at least € 5 or more, a price that is considered too high for many Russians while Vodka is still available for only € 2.50.  There is also a lot of cheap, fake alcohol in the market — a situation not far removed from India.