By SHUBASH ARORA, THE INDIAN WINE ACADEMY Newsletter
While a majority of the Royal Challengers Bangalore supporters would have downed cases of Kingfisher Beer, Juliette Monmousseau, Deputy Managing Director and Exports Head of Loire Valley-based Bouvet-Ladubay in Saumur, also owned by Vijay Mallya, must have celebrated with a bottle of Bouvet Brut when they defeated the Delhi Daredevils.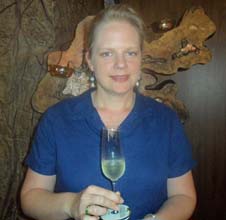 Juliette Monmousseau is the elder of two daughters of Patrice Monmousseau, Managing Director of Bouvet-Ladubay.  A small town girl, she is now the fifth generation of the Monmousseau family working for the company.  But she has not been in the wine business from the beginning as one might expect.
After graduating from the European School of Graphic Design in Angers where she was born (Ashvini Avate was the first Indian woman who had done her postgraduate work in the town University), she moved to Paris at 21 and started off as a trainee graphic designer in an advertising firm.  While her father paid for her school and flat rent, she worked part-time at Bouvet-Ladubay winery for five years to earn her pocket money.  She organized group visits, tastings and also worked as a sales person at the wine shop.
« The prospect of working at a boring job, staring at the computer with graphic designs from morning till evening was really scary and when a friend offered me a job as a switchboard operator with a film distribution company for two  weeks, I took it immediately« , she admits.  From there she went on to become the PA to the head honcho and marketing assistant.  Later, she became executive assistant to the chairman of one of the biggest independent film distributors in France and also handled an IPO for her company, Bacfilms.  The experience enabled her to deal with legal and business affairs.
In 2005, she started her own business as an independent publicist.  Les Journées du Livre et du Vin ('the National Days of Books and Wine') was launched in 1996 in Saumur, she took part actively in organizing this annual event and in 2006 was put in charge of publicity. She is also in charge a significant activity in art sponsoring.
As she was ready to market films internationally independently, she was encouraged and convinced by her father Patrice to market wines instead and she joined Bouvet-Ladubay to sell their wines in their biggest markets — Germany, UK, US, Holland, Belgium, Japan, China, Scandinavia and of course India.
In 2010, the board of directors nominated her as the Deputy Managing Director of Bouvet-Ladubay.  She is now overlooking the Bouvet Team for sales & marketing of Bouvet-Ladubay wines in France and in the Export markets.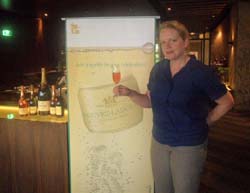 Juliette shares a passionate relationship with the Loire Valley, its wines and the richness of the art of living of the region.  But if you ask her about Champagne, her eyes light up. « Champagne is a special bubbly in its own right » she says, « and there are some excellent ones out there, » she adds.
Growing up with Taittinger, the family that owned Bouvet-Ladubay until it sold to Starwood Capital in 2006, she loves Taittinger and champagne and feels the two bubblies should never be compared.  While conceding that the strong Association of Champagne producers perhaps controls the prices and production, Loire Valley was highly fragmented with many small producers throughout the valley thus making it difficult for brand Loire Brut to be consistent and competitive to Champagne.
It was a revelation that before the Champagne AOC came into force in 1927, a fair amount of bulk sparkling wine used to be transported from Loire to Champagne for bottling.  For that reason there are many Champagne companies like Taittinger which had invested in the region.  An excellent Brut can be available at a fraction of the price of Champagne.  Bouvet Brut is made by Méthode Traditionelle, with the second fermentation in the bottle — although chenin is the majority grape, blended with a small quantity of chardonnay.  Rosé is used mainly by using cabernet franc although pinot noir is not uncommon.
Has the management complexion of the company changed since it was sold to the UB Group? « Apart  from the fact that we have benefited a lot in showcasing our Brut, courtesy Dr Vijay Mallya — serving to thousands at Davos Economic Forum.  We are pretty much given a free hand, » she said.  « Of course with Force India joining Formula One races and the Royal Challenger Bangalore playing IPL, we hope to showcase our wines more and more, » adding, « we opened magnums of the Brut when India won the world cup. »
But she was bold enough to admit that its promising free hand was the main reason when her father was asked to choose the bidders by the then owners Starwood in 2006, and Patrice chose the UB Group from India when there were many heavy weights including some from Champagne.  Juliette is very Bubbly, Bindaas and oh-so —Bouvet— she feigned shocked when Abhay Kewadkar, business head of the UB-owned Four Seasons Wines narrated at lunch an instance where he took some close friends to a restaurant where he had to order a competitor's brand.
She can rattle figures like 3.5 million bottles production before UB took over in 2006 to 6.5 million bottles last year-despite recession and their plan to increase to 8 million within the next couple of years.  She does not mind admitting that sales to India have not been significant so far but « we always work for the long term growth of a brand.  I am sure India would become an important market in the future, » she said confidently.
She would like to change that by seeking different market segments within India. Based upon their successful experience working with contemporary art galleries, she has been meeting a few powerful individuals to convince them to pair art events with sparkling wine and has already achieved a reasonable success.  The price factor and the quality are on her side, she says, repeating what her father always tells her, « Bouvet-Ladubay has the best price to pleasure ratio in the sparkling wine industry in which they are leaders handling over half of the region's export to 36 countries including India. »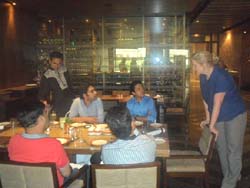 Juliette is a people's person. After lunch she walked to a couple of tables at the Baluchi Restaurant where the lunch had been paired with the three wines, and poured some Brut in the flutes herself and later asked the customers about their opinion.  No prizes for guessing the answer but she says, « I always like to meet the customers directly and get their feedback — it is as important as getting it from the professionals. »
Well, the feedback from this group was that the wines — especially the Brut and Saumur Blanc are rocking and rolling.  It is only a matter of time that the sales will pick up. Unfortunately, the taxes make the price tag of Rs.1600-2100 a bottle in different Indian States, a bit too expensive for sale in volumes.  And Juliette — she would always be welcome with or without lunch — so long as the bubbles and this bubbly 33-year young representative of Bouvet-Ladubay are the company.