DESPITE CRISIS GREEK WINES AIM HIGHER
By DANIEL J. BERGER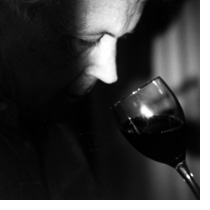 « In the wine business the situation in Greece is serious but, I believe, ultimately promising » Ted Lelekas wrote in a post last July, posted again on Oct. 4. On the occasion of a Greek wine presentation I went at the OIV* in Paris to check how consistent his say-so was.
Yiannis Paraskevopoulos from Gaia Wines, which he founded together with Leon Karatsalos early in 1994, was in charge of a short Greek wines panorama on this Nov. 29 presentation handled by the Greek embassy in Paris. Both an agronomist graduated from Thessaloniki University and an œnologue from Bordeaux, he is currently one of the top Greek wine experts.
There are around 500 wine companies in Greece and 5 000 marketed wine labels. Paraskevopoulos admitted that most small and medium businesses that launched recently do suffer a lot as they have difficulties to pay their loans back and often go bankrupt. But older companies stay strong and continue expanding, he added.
Like in the other southern European wine-producing countries — France, Italy, Portugal, Spain —, domestic consumption in Greece is decreasing, still amounting to more than 80% of the total production, as consumers however become aware of quality and more demanding. Wine imports are plummeting at a minus 25% since 2003, whereas exports did regularly increase with an encouraging 400%+ in value during the last decade, amounting to 17% of the total production to date. Reminding that the Greek vineyard is the more « ancient » in Europe as philoxera did not spread over, due to the clay soil shield,
Paraskevopoulos was confident that Greek wine industry have strong assets to develop in the future. One prime asset is the potential of some 300 indigenous non-grafted grape varieties such as the whites assyrtiko from Santorini, moschofilero from Mantinia and roditis from Patras both in Peloponnese, or malagousia originated in Nafpaktia in central Greece; as well as the red varieties xinomavro from central and northern Greece and agiorgitiko (« Saint George ») from Nemea in Peloponnese. The 60% proportion of white wines — retsina still amounting to 25% of them — are decreasing as the current reds proportion of 40% is actually increasing.
Other assets are the extreme diversity of soils, multiple climate variations, altitudes up to 600 m and more and sizes of the 500 domains from 1 to 40 hectares and even more. As well as a renewed search for terroirs to be cultivated on a reduced scale basis. And also comprehensive practises such as average yields of 50 hectolitre/hectare, and a reasonable 30 local appellations (AOP i-e protected designation of origin) as compared to 400 in France and 2 000 in the UE. And finally high-end low prices around €20-25 a bottle.
Paraskevopoulos did confirm what Ted Lelekas had said earlier — that « major markets in North America, Asia-Pacific as well as Russia, seem to be importing Greek wines of various styles and appellations. » I could verify their respective irreducible optimism as to the consciousness of Greek vintners and wine makers to find individually a good mix between indigenous and international varieties, both in planting and in blending. It looks like UE medium countries like Greece, Portugal, Austria share a similar destiny in combining sustainability, artisan/traditional and family production vs industry, and regional food pairing options to market, following a « your food, our wine » principle. About those countries Jancis Robinson used to speak of the New Old World. What do you think ?
tasted — Cont'd — 17 Greek Wines tasted — Cont'd — 17 Greek Wines tasted — Cont'd — 17 Greek Wines tasted — Cont'd
Hereafter is a description of the seventeen Greek wines I could taste at the OIV on November 29, 2010
—— MACEDONIA ——
Kechris – « Protios » – a cabernet sauvignon from Kariani of Kavala, and – « Stelios » – a 100% xinomavro from Goumessina Kilkis near the Parko mountains, two reds without any real soul in my opinion. Located in Thessaloniki, Kechris is known as a traditional retsina leader, trying to catch up with the new trends with wines such as « Les Larmes du pin » (The Tears of the Pine), a 100% assyrtiko white retsina aiming at putting « a whole Greek landscape in a glass ». www.kechri.gr
Kyr-Yannis – « Ramnista » from Naoussa near Mount Vermion – a nice 100% xinomavro fruity earthy red, to be served at 8° accoding to the promo leaflet : why so chilled? To mask its genuine taste? Kyr Yiannis was founded in 1997 by a Boutari heir, Yiannis, when he left the family group and currently managed by his son Stelios. Typically this is a new generation winery with promising ambitions.
Dalamaras and Thymiopoulos (a joint exhibition)
— I tasted three Thymiopoulos Naoussa AOPs, one 2008 « Jeunes Vignes » (young vines) and two « Terre et ciel » (Earth and Sky) a 2007 and a 2008, all elaborate xinomavro crus mixing 37 year old land parcels as to « Terre & ciel ».
— The Dalamaras « Triadique» was a 2007 blend of non grafted xinomavro and negoska from various parcels, aged in barrique. There you get to guess a new vision of Greek wines : the two managers studied oenology, Apostolos Thymiopoulos in Athens and Kostis Dalamaras in Bourgogne and they both manage ambitious endeavours, trying harder at valuing their individual terroir and experimenting new options especially in refining their xinomavro reds endlessly.
Gerovassiliou – « Avaton », a blend of three red varietals from Thessaloniki – mavroudi, mavrotragano and the so called oldest grape variety, limnio, mentioned by Aristotle as « limnia ampelos ». An original complex sructure with a dry in-depth finish. A very nice wine not to miss. Gerovassiliou develops an ecumenical range from viognier, chardonnay, sauvignon blanc, impersonating French crus, to various regional wines, syrah, malagousia late harvest and a very special blend of a red and a white variety – syrah and viognier ironically called « Evangelou ». gerovassiliou
Biblia Chora – « Areti » 2008, a 100% organic agiorgitiko, the first to have been planted with success outside Nemea, on Mount Pangeon – a typical cherry flavoured dark red surprisingly earthy and rustic. The Biblia Chora Kthma (domain) produces 11 wines – white, rosé, « ovilos » white, « ovilos » rosé, « ovilos » red, and sweet, from chardonnay, merlot, sauvignon blanc, gewürztraminer, syrah and cabernet sauvignon varieties. www.bibliachora.gr (in Greek only)
—— CRETE ——
Minos Miliarakis – « 35°– 25° », blending kotsifali and mandilari local varieties, an original red combining modern winemaking and strict grape selection for a quality table wine, tasting plum, cinnamon and clove, with a rather long final. « 35°– 25° » means 35° 12' N – 25° 11' E, the geographical localisation of the main wine region in Crete, the Peza area, where this wine comes from. It happened to be my Cretan initiation and I liked it, maybe also for other cultural reasons, as I never visited the island, the heart of our civilisation. Minos is a traditional winery officially founded in 1932 which existed from the nineteenth century and was the first in Greece to bottle its wine in the early fifties. www.minoswines.gr
—— SANTORINI ——
Santo Wines – « Assyrtiko » and « Nykteri » both 2009 dry whites. The first is a quite classic 100% assyrtiko, a little green to me, and without real charm. The second is 75% assyrtiko, 15% athiri and 10% aidani, a bit more subtle but still mute and closed. I found their acidity unnatural. My memory of Santorini was of more gorgious, elegant, complex dry whites. But maybe I got confused tasting them without the shining light of the Cyclades. I did not try the conventional sweet « Vinsanto » coming at the end of any tasting, or any special meal, as in Portugal or Tuscany the « Vin Santo ». Founded in 1947 Santo Wines is a cooperative gathering 1500 grape producers on the island. www.santowines.gr
—— PELOPONNESE ——
Theodorakakos – « Rosé » 2009 – 70% mavroudi, 30% agiorgitiko –, an organic, neon light colored, quite seducing dry rosé. www.estatetheodorakakos.gr
Vatistas – « Kidonitsa » – from Monemvassia in Laconia. Alc. 12∞ – floral and strong dry white, to be paired with sea food.
Parparoussis – « Taos » (meaning peacock) Achaïa 2005 from Patras – a subtle red mavrodaphne grown by one the most competent winemaker in Peloponnese and a wise man, Mr. Parparoussis, somebody you like being tasting with.
Skouras – « Grande Cuvée » 2006 and « Saint George » 2007 both from Nemea : grown in altitude these two robust high end reds have both a solid structure, they are quite fruity and elegant, reasonably flavoured and served by a welcoming and pleasant George Skouras in person (alc. 13.6°). www.skouraswines.com
Gaia – « Nemea » 2006 – 100% agiorgitiko – : well melt tannins, beautifully precise, balanced and refined red, to me the best of them all that cold day (alc. 14°). Gaia owns two wineries, one in the Nemea AOP region in Peloponnese with a 3,000 hl capacity, and another one on Santorini island with a capacity of 1,400 hl. In Nemea, their agiorgitiko and syrah « S » aims at rivaling with the Super Toscans. They also make a red sweet « Anatolikos » (alc. 14°), a regional wine « 14-18h » (alc. 12.5°) grown in the mountains of Koutsi and Klimenti and a repositioned retsina named « Ritinitis » (alc. 11.5°). In Santorini they produce a special « Assyrtiko Wild Ferment ». Gaia offers a beautiful comprehensive range indeed. www.gaia-wines.gr
* OIV : Organisation Internationale de la Vigne et du Vin, wine intergovernmental scientific and technical organisation gathering 43 countries.