By TED LELEKAS
Greetings from Vienna! I'm at the 2010 European Wine Bloggers Conference, representing my personal wine blog, The TeLeGourmet Chronicles, and of course Mmmm…ton vin!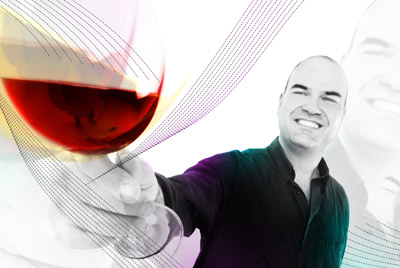 The event is superbly organised by Gabriella and Ryan Opaz of Catavino, as well as by Robert McIntosh of The Wine Conversation. I should also say that Vienna is an excellent choice of hosting city — not only is it beautiful and stately, but it is making the most of our stay here. We have been given amazing information material (guides, maps, books, give-aways) about Austria, Vienna and its wines, and we've also had great opportunities to sample very interesting Austrian wines. And this is only the beginning!…
Tomorrow the programme includes a day trip to a choice of 3 famous winemaking regions (Burgenland, Danube and Weinviertel – my choice is the 3rd one, the « capital » of the most famous Austrian wine variety, Grüner Veltliner). And after that, those that can stay on for a couple more days can look forward to 2-day trips to either the wine country along the Danube (covering the Kremstal DAC, Kamptal DAC and Traisental DAC zones) or the famous Burgenland region. I'm going to the latter, as I think I will by then be looking forward to tasting some more of Austria's finest red wines, made of very interesting indigenous varieties such as Blaufrankisch, Zweigelt and, one that I tasted yesterday for the first time and have been impressed with since, St. Laurent.
I'm really glad to be taking part in this year's European Wine Bloggers Conference. It's great to meet people from all over the world with whom you share the same passion, as well as to share the knowledge, experience and expertise of leading international experts in the fields of publishing, social media and journalism who present at the conference's sessions and workshops. Incidentally, 150 bloggers from 30 countries are attending the conference this year!
One final thing that I was really impressed with: yesterday all conference attendees took part at a live tasting of 12 Austrian wines from small, independent producers. We then voted for our favourite, which was instantly picked up by UK online wine retailer Naked Wines (the company's CEO himself is at the event), and is already available for sale online to UK customers! How cool is that? FYI – it was a multi-varietal white blend from Vienna.
Wine bloggers, wine writers and wine professionals reading this should definitely consider attending the European Wine Bloggers Conference next year, which will be the 4th one. After Spain, Portugal and Austria so far, I wonder if I should suggest to the guys that the next one takes place in Greece?…