By FRÉDÉRIC GALTIER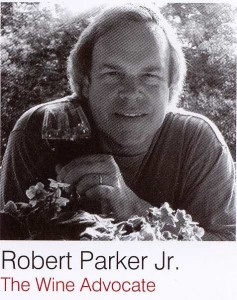 A 'Grand Tasting' was held by Robert Parker (right) from 6 to 8 pm on Nov. 12 at WineFuture Rioja'09 in Logroño, Spain.  It included a selection of Grenache (Garnacha in Spanish), i-e made with at least 90% Grenache, (with the exception of two Rioja), from around the world.

Some wondered why Parker had not chosen Tempranillo since the conference was being held in Rioja and he responded that unlike Grenache which is successfully produced in many countries, there were not enough good non-Spanish Tempranillos to garantee an international tasting: "I have chosen to hold the tasting with twenty wines of Garnacha from around the globe as it is one of the most interesting varieties, and also because Spain is the cradle of this grape" he said.

The tasting session comprised 7 wines from France—Châteauneuf-du-Pape exclusively; 7 from Spain—2 from Rioja; 2 from California; and 4 from Australia.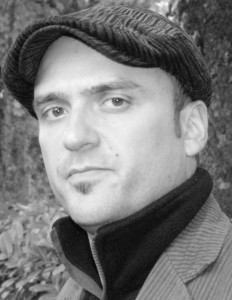 I was lucky enough to be able to attend this outstanding Parker Grand Tasting while in Logroño for the purpose of my Desembolic reports.  Installed in Barcelona since 2005 as a journalist, I specialize in Spanish wines, contributing to many wine focusing media.
One after another Parker tasted the 20 wines that he had personally selected one after another in front of an audience of 530, invited as speakers and sponsors or having paid a €600+ entrance fee.  Under the supervision of Bruno Murciano, winner of the Best Sommelier 2008 in Spain, 20 sommeliers in charge of opening, tasting and serving the 600 bottles presented, poured the wines into 10,700 glasses.
Here are quoted Parker's impressions and explanations from The Wine Advocate, followed by mine.
FRANCE — Châteauneuf-du-Pape
1.    Domaine Charvin 2007 : "Superb 2007 displaying a personality reminiscent of a hypothetical blend of his 1990 and 1998… It exhibits a deep ruby/purple color as well as a sumptuous bouquet of black raspberries, kirsch liqueur, and subtle notions of underbrush and nori seaweed wrapper. Rayas-like in its ethereal richness, length, and texture with a sense of lightness despite its weight, this beauty possesses superb purity, equilibrium, texture and elegance. Some serious tannins are lurking behind all the fruit, so this 2007 will benefit from 2-4 years of cellaring. It will drink beautifully for 15-18 years. 94-96+ out of 100"
— Frédéric Galtier: rather classical aromatic Provence style — rasperry and kirsch flavoured. Ample and corpulent, staying svelte, with much litheness and elegance.
2.    Domaine de Marcoux Vieilles Vignes 2007 : "The opaque purple-colored 2007 reveals an extraordinary nose of black truffles, acacia flowers, black raspberries, blackberries, liquorices, incense and camphor. Full-bodied and extraordinarily intense with perfect balance as well as superb freshness, this profound effort requires 3-4 years of bottle age, and should keep for 20-25 years after its release next year. 96-98"
— FG: following up on concentration, this 90 year old Vieilles Vignes is a 4,000-bottle cuvée produced largely from Les Gallimardes, Charbonnière, La Crau, and occasionally, Esquirons. A bio-dynamic wine including 98%+ Grenache and tipping the scales at 15°+. Very dense and powerful as well as balanced and elegant. Spice dominates here, balsamic and pepper lying on pulpy black fruit aromas.
3.    Clos Mont Olivet Cuvée du Papet 2007:  "The explosive, pedal-to-the-metal, super-duper 2007 Cuvée du Papet has an even darker ruby/purple colour, with a glorious intense nose of roast meat and Provençal herbs interwoven with kirsch, black currant, loamy, earthy scents, and some pepper and spice. There is just about everything going on in the aromatics, suggesting that the taster is standing in an open-air marketplace in Provence. Aged 18 months in wood foudres and a blend of 80% Grenache and equal parts Syrah and Mourvèdre, this cuvée exhibits huge body, loads of glycerine, fabulous concentration, but is not the least bit heavy or sloppy. This is a sensational expression of old vines that should prove to be their greatest example of this cuvée since their sublime 1990. Moreover, it should drink well and evolve for at least 20+ years. 94-96."
— FG: Wow! Splendid. This is a serious matter here, an explosion of fruits, aromatic herbs and spice. Very much Provence style again. Presence of Mourvèdre and  Syrah (10%+10%). Corpulent without weight. Very concentrated and "glyceric".
4.    Chapoutier Barbe Rac 2007 :  "Reminiscent of the 1990, this dense ruby/purple-tinged 2007 is an astonishingly full-bodied, opulent, flamboyant wine displaying an extraordinary bouquet of incense, lavender, kirsch, resin, the seaweed wrappers used in sushi restaurants and liquorice. Chapoutier's single vineyard Châteauneuf du Pape represent two different areas of the appellation, with the Barbe Rac coming from the western corridor, net far from the Plateau of Mont-Redon. Chapoutier has adjusted the manner in which he ages these cuvees, as they are now completely aged in tank. Made from a minuscule 10 hl/ha, it reveals great texture, an amazing finish, and riveting overall balance and purity. It should hit its peak in 3-5 years, and last for 20-25. 96-100"
— FG: fruits dominate here with a bit of kirsch. Also pepper, clove, nutmeg. It is dense and precise. Robert Parker had this remark : "This profusion of fruit may let you think that these wines will not age, but it's wrong! The are supported by a remarkable acidity and a lot of tannins. You cannot hope for a Bordeaux type longevity, but they will evolve for 10 to 15 years without problem."

5.    Domaine La Barroche Cuvée Pure 2007:  "The brilliant 2007 Pure does not rival the virtually perfect 2005, but I rated the 2005 similarly at the same stage of development, and the 2007 will probably put on weight. The dark ruby hued 2007 reveals a gorgeously pure nose of framboise, black raspberries, kirsch, liquorice, roasted herbs, and meat juices. Displaying great texture, massive length, superb purity, a full-bodied, supple mouth feel, and a finish that lasts nearly 50 seconds, it should drink well for 12-15 years. 93-95"
— FG: a lot of volume, length and intensity in this 100% Grenache Vieilles Vignes. A few fermentable notes however cover a very seducing black cherry taste. A harmonious wine, intense with no heaviness and an endless finish of great purity. Parker added: "Wine is a beverage of pleasure… it's very simple, people have made it too complicated. If a wine tastes good to you, it is good. If the wine tastes too tannic, it is too tannic!"
6.    Domaine de la Vieille Julienne 2007:  "Dense purple-coloured to the rim, with notes of melted liquorice, smoke, pepper, blackberries, kirsch and incense, it is incredibly aromatic (no doubt because of the cool growing conditions) with excellent concentration as well as lofty alcohols (from the drought that lasted from late spring through the end of September). It reveals wonderful freshness and vivacity, a full-bodied style, and an elegant, pure personality. It should drink nicely for 20 years or more. Interestingly, the winemaker-owner Jean-Paul Daumen compares his 2007 with the 1999, also a great success. 93-95."
— FG: vast aromatic scale experienced with the previous wines. Very much alive, sturdy but supple. The ending is superb, stressed by the sensation of crunching a black pepper grain. The vineyard is bio-dynamic.
7.    Pierre Usseglio Cuvée de Mon Aïeul 2007: "Soaring aromas of blueberries, black raspberries, liquorices, roasted herbs, and grilled meats are followed by a wine of superb intensity, purity, multi-dimensions and an endless finish. It should drink when released and age effortlessly for 15-20 years. It reminded me of the utterly profound 2003, with more freshness and depth. 96-99."
— FG: both strong and refined. Flavours are explosing and textures form an great architecture. It's pure, clear and very pleasant : fruit, fruit and more fruit, dark and mellow. Typical example of solely Grenache grapes even from three terroirs.
SPAIN
8.    Atteca Armas 2006: 'This Atteca was sourced from 80 to 120-year-old head pruned Grenache vines and aged for 10 months in seasoned French oak. Deep purple-colored, it exhibits an impressive nose of crushed stone, black cherry and plum. This is followed by a full-bodied wine, with layers of savory fruit, spice notes and silky tannin. This balanced effort will evolve for another 1-2 years and drink well through 2017. 90."
— FG: this DO Campo de Borja from Aragon — which might be the cradle of Garnacha — is indeed a change in style. My first impression is the new wood. Where did the Grenache go to? Explosion of smoke and toast coming from the best French oak. Behind, I find plum and cherry, and spice… very strong on the palate and fresh as well. Parker added : « Even too young a wine should be attractive. We have to end with this myth of astringence and undrinkable wines when young becoming great only when the are aged."
9. Mancuso 2005: "It was aged for 14 months in new oak. It offers up a superb bouquet of toasty new French Allier oak, pencil lead, scorched earth, espresso, black cherry and blackberry liqueur. Opulent, rich and complex on the palate, this full-bodied wine has tons of flavor, nicely concealed ripe tannins and a long, fruit-filled finish. Cellar it for 6-8 years and drink it from 2016 to 2030. 96."
— FG: Vino de la Tierra de Valdejalón in Aragon. It stumbles over an imposing wood before finding the heating, toasting and roasting, and mocha notes. Tannins are mellow on the palate but the wood is exhausting.
10.    Espectacle de Montsant 2006: "Delivers a perfume of super-fragrant cherries, spice box, olives, and incense. On the palate it is full-bodied, opulent, layered and succulent. Dense, thick and very long in the finish, it is irresistible now but will age effortlessly for another 4-6 years. It will drink optimally from 2014 to 2026. 96."
— FG: located at La Figuera on the northern edge of the Montsant DO in the Province of Tarragona, Catalonia. It is good indeed,  intense, fresh, full: to drink prior to taste. Fruits are fresh and tempting, spices are evenly shared and the whole is succulent: lunch is ready!
11.    Clos Erasmus 2005: "A cuvée with Cabernet Sauvignon, some Syrah and a majority of Grenache, none too old (about 12-15 years). All grapes come from the vineyards within this 3 ha property planted in different areas, always in slate rock slope known as Licorella".
— FG: a perfect example of DO Priorat in Catalonia. Lots of mellow fruits and the typical mineral taste. And a depth vertigo. It is strong while staying smooth and elegant.
12.    Aquilon 2007: "It offers a room-filling kinky perfume that is totally captivating. On the palate, gobs of pure black cherry and black raspberry fruit conceal that this wine has enough ripe tannin to evolve for at least a decade. This hedonistic effort is impeccably balanced and should provide extreme pleasure from 2015 to 2030. 96."
— FG: DO Calatayud in Aragon. The wine is full of promise and strong. The small and black fruits are matured and the tannins well integrated. Reasonable wood taste. A result with no default.
13.    Marqués de Riscal 1945 — Rioja: "1945 is considered as one of the greatest Rioja vintages. The quality was superb here in Elciego. The growing cycle lasted 205 days, there were frosts in May, rainfall was scarce and August was quite cool. This wine was made with 70% tempranillo and 30% Cabernet Sauvignon aged for 50 months."
— FG: the bottle was beautiful and the wine dead.
14.    Contador 2007 — Rioja: "Only the oldest vines with the lowest yields were chosen here. To achieve a perfect balance, the blend includes grapes with high acidity from the plots located at the bottom of the Sierra de Tolono, with the richer and more structured clusters from the Ebro meander. A total of 11 plots were harvested and blended, with different orientations and altitudes. The predominant soils are a mix of limestone and clay with some alluvial component. The wine is a blend of 94% Tempranillo and 6 % Grenache fermented in large wooden vats and aged in 100% new French oak during 19 months."
— FG: this new generation Rioja emphasizes the dichotomy in the famous Spanish region — old school v. new school. But it's not much worth it. The last Spanish wine of the tasting left me thirsty although I was looking forward to discovering the modern Rioja. A pity.
USA — California
15.    Pandora – Alban 2006: "A blend of 92% Grenache and 8% Syrah, the 2006 Pandora possesses those sexy, open-knit aromas that smell as if one is walking through an open air Provencal fruit, spice and vegetable market. Deep ruby/ purple-hued and medium to full-bodied, it offers hints of lavender, pepper, kirsch, raspberries, and darker fruit. This is an individualistic wine that should mature quickly and provide the most luscious early drinking. 96-98."
— FG: Alban is a pioneer in the Rhône Rangers movement in California creating wines from the Rhône Valley varietals — Syrah, Viognier, Roussanne and Grenache. This is a curious wine, very dark, austere. We identify mediterranean aromas — spice, herbs, fresh fruits, but lacking a little brio.
16.    Sine Qua Non Atlantis 2005: "93% Grenache and 7% Syrah. Deep, complex and full-bodied with a roasted meat-like flavor. Despite its size and richness, the overall impression is elegance and a phenomenal definition. It should drink well for 10-15+ years.  In short, it is talent and incredibly meticulous hard work. No one works as hard or is as maniacal about a vineyard's viticulture and winemaking as Manfred Krankl. But it is still a challenge to analyze these wines. I know they are distinctive and I am just beginning to understand why they are so much greater than just about every other Syrah or Grenache-based wine in California."
— FG: same "gothic" notes as the in the previous wine. Despite a dark colour and tortured traits this is a profound and interesting wine, complex even sophisticated.
AUSTRALIA
17.    Killikanoon Duke 2006: "The medium ruby-colored 2006 The Duke Grenache was sourced from a vineyard planted in 1926 in the heart of South Australia's Clare Valley. Aged primarily in seasoned oak, it offers up a multifaceted aromatic array of cedar, spice box, mineral, lavender and black cherry. Layered yet elegant on the palate, it shows plenty of power, ripe tannins, savory red fruit flavors and splendid balance. 92."
— FG: a little dusty, very kirschy on the nose, it lacks petulance on the palate. I found it heavy, slicky, woolly.
18.    Greenock Creek Cornerstone 2006 :  "It offers up an alluring bouquet of mineral, leather and wild cherry leading to a full-bodied (18.5% alcohol), super-rich wine with no hard edges. Opulent and pleasure-bent, it could be likened to a great vintage of Henri Bonneau Châteauneuf du Pape on steroids. Drink it over the next 10-15 years."
— FG: this Barossa Valley 100% Grenache from 63 years old Vieilles Vignes is a gourmand wine, very much spiced and full bodied, with complexity on the nose. The cheeky little cherries dressed up in sado-masochist leather for the occasion! Although hot on the palate it remains pleasant.
19.    Clarendon Hills Old Vines Romas 2006 : »This is one of the world's great wine estates. Planted in 1925 in the conventional bush vine manner with no trellising, the wines are all 100% varietal, produced from Cabernet Sauvignon, Merlot, Grenache, and Syrah. The vineyards are all ungrafted, planted on their own roots, most of them with very old vines. Only French oak is utilized, seasoned barrels for the Grenache, 100% new for the Merlot and Cabernets, and 50-100% new for the Syrah depending upon the vineyard. The wines typically spend 18 months in oak prier to bottling without fining or filtration. The vintage was an excellent one, not quite as exceptional as 2005, but there may be cases in which selected 2006s may eventually outshine their 2005 counterparts ».
— FG: a lot of presence with intense aromas of quiet cherries mingled with redcurrant. A wine with deepness, still a little tough, which will have a brilliant destiny.
20.    Torbreck Les Amis 2005 :  "The 2005 Les Amis, sourced from a 100+-year-old vineyard, is 100% Grenache aged for 18 months in new oak. Remarkably fragrant, it emits full-throttle aromas of spice box, kirsch, wild raspberry, and blackberry liqueur. Plush on the palate, it reveals layers of rich, red and black berry flavors, ripe tannin, and a 60-second, pure finish. Although it can be admired now, it merits 6-8 years of further bottle aging to reveal ail of its splendors. 98."
— FG: Barossa 100% Grenache planted in 1901, and aged in French oak barrels — far from beeing frequent in Australia. This superb and spectacular wine, deep and dense, spicy, had red fruit liqueur, elegant tannins and an interminable ending.
Bienvenido Mr. Parker!*

Although this was one of the largest tastings in Europe ever, at the end of it we had in front of us a friendly, unassuming and enthusiast Parker talking simply about some wines he likes to drink, willingly giving information about producers, vineyards, technique and details on the selected bottles — produced mostly in tiny quantities and sold at ultra premium prices.
The demonstration of an exciting diverse and multi-facetted Grenache was a success and deserved a big long round of applause.  To me however the marathon ended up with an impression of uncompletion as far as Rioja was concerned.
* In reference to Welcome Mr. Marshall, a 1953 Luis Berlanga film about a small Spanish town doing its best to impress Marshall Plan diplomats viewed as new Messiahs, a little as Bob Parker was in Logroño. I like the way this comedy looks at both Spanish and American stereotypes and also the song of the film :
"Los yanquis han venido/ olé salero, con mil regalos/ y a las niñas bonitas/ van a obsequiarlas con aeroplanos/ con aeroplanos de chorro libre/ que corta el aire/ y también rascacielos, bien conservados/ en frigidaire .
Photos : Wine Future Rioja'09, Frédéric Galtier, Catavino.