By TED LELEKAS
The beautiful island of Naxos, where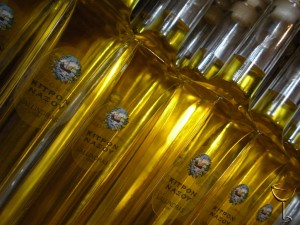 my wife and I spent the early part of our Summer holidays, is a popular summer holiday destination for Greek and international tourists alike. It is a big island in the Cyclades that is surrounded by beautiful, crystal-blue beaches, and is best known for its top quality PDO cheese, its tasty meats and its world-famous potatoes.
Naxos was one of the first islands in the Aegean to cultivate the vine and produce wine. However, due to post-war immigration and the commercial growth of the Naxos potato, the island's vineyards have either been replaced by potato plantations, or completely abandoned.
Being on holiday and not being able to engage in any form of wine tourism was very disappointing for me. I was, however, more than compensated by my discovery of a local distillate called « Citron of Naxos« : the highly aromatic, ultra-limited production eau-de-vie that's being produced on the island in the same, traditional way since 1896.
Citron of Naxos is produced in a copper pot still. It is the result of the distillation of pure alcohol, infused with the powerful essential oils found in the leaves of the citrus tree. To this day, it is made to the secret family recipe of Markos G. Vallindras, who founded the Vallindras distillery in 1896 (Citrus trees were first brought to Naxos in the 17th century). Today, the Vallidras distillery is operated by the 4th generation of the Vallindras family, producing 3 different types of Citron of Naxos, as well as ouzo and other traditional spirits and liqueurs.
Thanks to the power of the citrus leave essential oils (which are key ingredients in perfume production), Citron of Naxos is a unique spirit, which is nothing like any other citrus-flavoured drink on the market. It's fine and fresh, with elegant yet rich, lasting aromas of sweet fruits like lime and bergamot, as well as summer flower blossoms. Citron of Naxos is drunk chilled as a digestif, signaling a refreshing conclusion to a nice meal.
The Vallindras Distillery does not have a website, so it's difficult to find out more about it, and about Citron of Naxos, from a distance. Visiting the elegant neo-classical building in the picturesque mainland village of Chalki, however, and doing a tasting of all fine products of the distillery, is one of many pleasant excuses to visit the beautiful island of Naxos…