By LINCOLN SILIAKUS riding Solex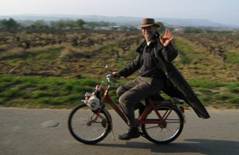 I had hoped to do the trip through the Côtes du Nuits logically, from north to south. But when the owner of La Romanée-Conti, Aubert de Villaine offered to see me on the first day, I decided to base myself in the middle at Vougeot and ply the Côte.
His personal assistant met me as I wheeled Solex through the Domaine de la Romanée-Conti's red gates.  He guided me into a simple, elegant meeting room.  A moment later, before I had time to get even more nervous, de Villaine appeared.  « In my generation, everyone had a velosolex, » he said. « It brings back memories.  I had one when I was 20 years old. »  Although he's tall, he doesn't look down at you.  Today he is dressed in simple blue cotton trousers and a clean cotton trekking shirt.
I suggest that we wheel Solex up to the cross at Romanée-Conti.  He laughs when I say I want a photo of him with it.  « The view from the top over there, up by the wall, is great.  Sorry I don't have time to go up there today. »
I ask if facing east makes a difference.  « This is what makes Burgundy what it is. » We pass a small bare field.
« Yes, this plot is ours. We pulled out the vines last year.  We are going to let it sit like that for four or five years, then plant it.  That means they'll be wine in the bottle in about 20 years. »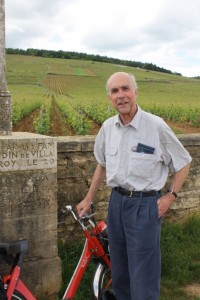 Aubert de Villaine (left) speaks carefully, even hesitantly. « Making great wines is simple, very simple… But nothing is harder than being simple… simple. Experience teaches us that… You… you need to have lived, to have experienced life, to know that. It's difficult to be simple for the vines, because having good quality fine pinot, old, that is at least 30-35 years old, and having soil which has been respected for 20 years – just that, it's hard just to have those things together.  And then, there's all the winemaking… »
I suggest that it's human to complicate things. He agrees. « We complicate things by seeking shortcuts all the time. We seek less work, easier.  To have a tractor which is well adjusted, it complicates things, but it is easier. Yes, each time it adds a level between us and the earth.  The relation between the horse and the soil is magnificent.  People ask why the horse.  If they insist, we say we use horses to add beauty to the world. »
The domaine de la Romanée-Conti is now going biodynamic. « But the important thing is to be organic. Biodynamics interests me because we seek plants which allow us to fight against sickness. Some organic people overdo the copper, though. I prefer the "raisonnée" who use some chemicals but who use less copper. But the worst thing is to treat the soil to get rid of weeds. It's catastrophique. »
« I love to put my hands into the vines, but I can't afford the time. The important thing in any field is to have a philosophy… ». We are now in the vines. « Here, I love young vines. A lot of our youngest ones here in Romanée-Conti died last year. We don't know why. »
I ask him about grafting, whether he dreams about using whole plants. « Of course, it would be nice not to have to use grafts. We tried, but the phylloxera gets in and they die after 10 years. It's better to find the right "scions" [the pinot noir material that goes on the top of the woodstock].  We do try to get as much as possible back to the original vines. Romanée-Conti remained ungrafted until 1945.  These were the last vines in France not to use grafts.  We injected them with carbon disulphide to keep them going.  Now, each year at harvest time, we check out the best plants and put a splash of blue on the wire.  After harvest we come back and take the stems for new plants.  It's a kind of cloning but with lots of sources. »
He is still on his haunches, by a young plant.  « Pinot is quite extraordinary. Even though it doesn't have much taste, it really expresses the terroir.  It also really responds to heat.  Often we have a cold summer and we think that it is going to be a poor year.  Then, in mid September the sun comes out and the wind blows down from the north, drying it all out.  And it's a good year! »