By TED LELEKAS

The Circle of Wine Writers held its annual dinner in London on 5.11. The event was an opportunity for members of the Circle from the UK and abroad to get to know each other better, while enjoying great food matched with an imaginative and interesting range of wines.
The venue of this year's Annual Dinner was Terroirs wine bar and restaurant in Covent Garden. The wines were selected by wine writer and member of the executive committee of the Circle, David Furer.
The theme for the wine selection in this year's dinner was « Island Wines », and it included wines produced in islands all over the world. The aperitifs were — quite appropriately — various sparkling wines from England, while the dinner wine list comprised white and red wines from: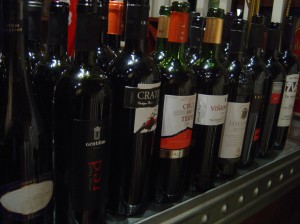 — Tasmania and Kangaroo Island in Australia;
— Waiheke Island in New Zealand;
— Long Island in the USA, Pelee Island in Ontario, Canada;
— the Canary Islands in Spain;
— Santorini, Paros, Samos and Cephalonia in Greece;
— Paphos and Limassol in Cyprus;
— Sardinia in Italy;
— Insel Mariannenaue in Germany; and
— Madeira in Portugal.
The dinner menu was comprised of dishes made with full-flavoured, seasonal ingredients that were chosen to bring out the true character of all wines that would accompany the food. The dishes were: new season asparagus with Hollandaise sauce; panzanella; Lincolnshire Smoked eel with celeriac rémoulade; snails with bacon and garlic & parsley sauce; porchetta with salsa verde; a terrific aged gouda; and a cariguette strawberry millefeuille for dessert.
It was a very interesting event — we were all seated in groups, each of which had the opportunity to select as many wines as everyone wanted, in order to create matches with each dish, which were subsequently discussed and compared amongst everyone. All wines showed off their best typical and varietal characteristics, with most of them leading to very intriguing matches with the various dishes.
Speaking personnally, I was very happy to be attending my first Circle of Wine Writers dinner, and hope to be able to attend as many Circle events as I can in the future. And of course I was even more pleased by the fact that quite a few top quality Greek island wines were included in the line-up and were very well received. Among them, a very popular wine from my home island of Cephalonia, Gentilini Robola 2008 — possibly the best example of the fine native white variety of Robola in many years.
telegourmet.org