Here are a few gossips from « la place » de Bordeaux last autumn

The Bouygues brothers, recent owners of Château Montrose in Saint-Estèphe for €M138 will now invest in a four year reshuffling plan. Martin and Olivier Bouygues hired Jean-Bernard Delmas the former technical director at Haut-Brion to aim at overpassing the no.1 in Saint-Estèphe Château Cos d'Estournel. One can bet they are searching for upper price rankings in Bordeaux like the Margauxs, Moutons, Lafites, Latours and Yquems.
The former winemaker at Montrose Bruno Lemoine then joined the troubled Larrivet Haut-Brion to produce a beautiful dry white starting this year. As the 2007 dry whites in Pessac-Léognan are considered exceptional — Jacques Bonnie owner of Malartic-Lagravière in Pessac-Léognan declared the 2007 to be his best wine in ten years –, prices ox Bordeaux whites are increasing as in Bourgogne, and nobody can expect a decrease as for the Médoc reds or those on the right bank – Saint-Émilion, Pomerol and Fronsac, around 10% for the crus from €10 to €50, and between 15% and 40% for the big heads over €50 : minus 28% for Château Margaux at €266 a bottle still ($404), minus 34% for Vieux-Château-Certan in Pomerol at €62,50 ($97.50), and minus 42% for Troplong-Mondot in Saint-Émilion, at €48,50 ($73)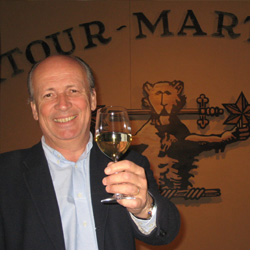 At Latour Martillac in Pessac-Léognan, the œnologist, professor and owner himself of Floridène and Doisy Daëne among others, Denis Dubourdieu replaced Michel Rolland, currently reducing his consultant activities to focus on the promotion of his Rolland Collection. Tristan Kressmann the owner is one of the Angels « Gardiens » of this blog (left).
2007 is a Cabernet Sauvignon year in the Médoc as winemakers have dramatically increased its proportions due to their very late maturity — up to 90% at Bruno Borie's Ducru-Beaucaillou in Saint-Julien — the most respected owner, also producing a good cheap 'bourgeois' Lalande-Borie (€12) —, 89% at Château Margaux — in the Margaux area châteaux du Tertre and Ferrière seem to be the best bargains (€19,50 and €18,50) –, and up to 91% at Château Latour, 84% at Lafite-Rothschild and 81% at Mouton- Rothschild in Pauillac.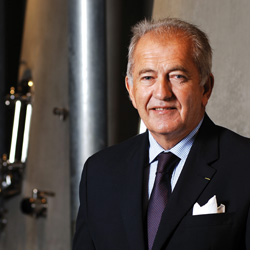 In Pauillac, Alfred Tesseron owner of Château Pontet-Canet (left) decided in June 2007 to go in extremis for a strong chemical treatment against brown rot and save his harvest even at the cost of his organic label agreement cancellation for the next three years. To get out of this tight corner Tesseron acquired three Breton horses, Reine, Kakou and Babette, to be tilling his 80 ha vineyard situated in front of Mouton-Rothschild, an unprecedented practice in the Médoc. Tesseron is another Angel « Gardien » of our blog.
Small is beautiful. Guy Delon owns two tiny vineyards, Moulin de la rose in Saint-Julien (4 ha) and Ségur de Cabanac in Saint-Estèphe (7 ha) with no big crew but he could take care of every square meter of each of them day after day in 2007 to finally succeed in making two excellent crus and cheap.