By DEAN TUDOR
ICEWINE: Extreme Winemaking is mainly by Donald Ziraldo, who, with winemaker Karl Kaiser, founded Inniskillin Wines in 1974. It was the first small and new winery in Ontario, Canada, since 1929.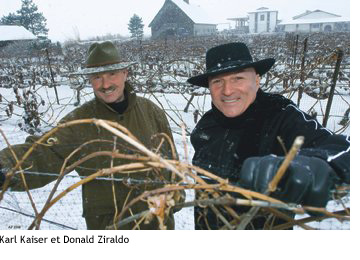 There's a foreword from Hugh Johnson, an icewine flavour wheel from Shari Darling, some notes from John Schreiner's book on Icewine, scientific notes from Karl Kaiser, and recipes from the late Izabela Kalabis-Sacco pulled together by Lyn Ogryzlo.
The promotion bumpf says, « A gorgeous collection, with full-colour photography and delicious recipes that explains the art behind Canada's wine delicacy ». They forgot to include that the book also contains a big whack of scientific and technical data, with copious charts, graphs, and tables, compiled for the most part by Kaiser. He has all the figures for the history of Inniskillin icewine, including — on a year by year basis — harvest brix, harvest temperatures, acid levels, ABV, residual sugars, all from 1983 through 2006 (the latter was harvested in January 2007).
Dean Tudor is a food and wine writer. Member of Wine Writers Circle of Canada. Professor Emeritus of Journalism, Ryerson University, Toronto. www.deantudor.com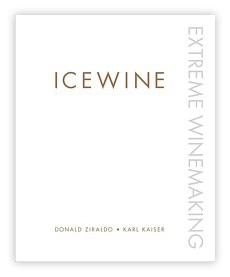 In addition, there are figures for all of BC, all Ontario productions, Germany and Austria. Icewine made in other locations, such as New Zealand or New York, are cryogenic extractions (wines from the freezer). The book is very detailed with maps and photos, discussing the effects of terroir, grape varieties, pressing techniques, cork quality. There's a discussion of VQA and the new sub-appellations in Niagara. Ziraldo has material on how to properly appreciate and taste Icewine, using Riedel glasses which he had helped to create. There are cocktail recipes, and 20 food recipes using icewine or accompanying icewine, using both avoirdupois and metric measurements for the ingredients.
– Audience and level of use: lovers of icewine.
– Some interesting or unusual recipes/facts: foie gras with Granny Smith apples; seared foie gras with icewine-soaked apricots; grilled fig salad with gorgonzola; truffled cream of cauliflower soup; leg of lamb with fig compote.
– The downside to this book: there's a suggestion of a gift book here, but no matter.
– The upside to this book: there's a separate index for the recipes.
– Quality/Price Rating: 89 out of 100.
Dean Tudor is a food and wine writer. Member of Wine Writers Circle of Canada. Professor Emeritus of Journalism, Ryerson University, Toronto. www.deantudor.com
ICEWINE: Extreme Winemaking, Key Porter Books, 2007, 192 pages, ISBN 978-1-55263-926-9, $50 CDN hard cover