Things you never thought you could do with grapes
By MICHAEL JOHNSON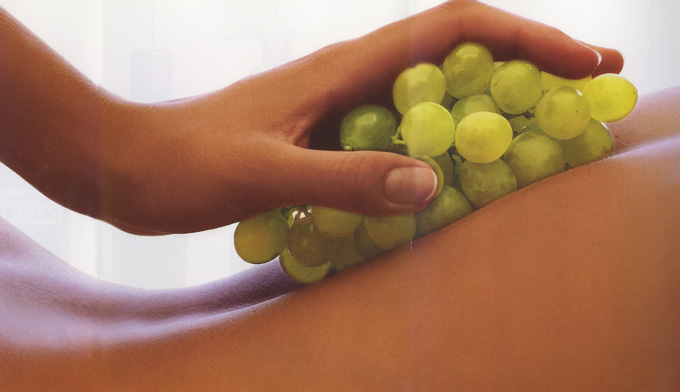 BORDEAUX — I had heard from friends about the marvels of vinotherapy and was curious to know what it really was – beyond simply drinking. Experts informed me it's a process of applying balms and creams based on white grape pits to the body to slow the aging of skin.
The center of the Caudalie vinotherapy phenomenon, near Bordeaux, invited me to experience a grape juice bath and special massage to prove that the procedure actually works.I was led to a private room with an enormous tub, its bottom and sides pierced with power-jet holes of various sizes. An assistant helped me slide into place as she emptied a vial of grape essence into the warm water, then she flipped a switch.
The grape solution was actually a combination of seeds, skins and pulp of white grapes that vineyards put aside after pressing the grapes for their juice and eventually white wine. Before the Caudalie people came along, this sludge was disposed of as waste.
With the help of a Bordeaux University chemist, they discovered that the seeds contain a rich polyphenol, an antioxidant that retards the aging of skin. Lancôme had tried a similar product a few years earlier but withdrew it from the market when it was discovered to be unstable. The Caudalie team managed to stabilize the polyphenols.
Next, "Alexandrine" led me to a private massage room. She showed me something that might have come from the kitchen: a bowl of honey, oil and raw grape seeds. "This is our secret," she said. Without further warning, she attacked my legs with a handful of her potion, raking the seeds across my flesh with impressive power.
A half hour of this vinotherapy – back and front — had released a charge of antioxidants into my system, and body chemistry was doing the rest.
I could see the effects of the treatment. My skin had lost its pebbles and the wrinkles seem to have disappeared. I gradually stopped shaking and I promised Alexandrine I would be back.
Michael Johnson is an international journalist based in Bordeaux contributing frequently to the International Herald Tribune. He is author of four books, including "French Resistance: The individual versus the company in French corporate life", and "Workaholism: The plague of our time".
Notre « homme à Bordeaux » est le journaliste international Michael Johnson. Auteur de quatre livres, dont « French Resistance » et « Workaholism », il collabore fréquemment à l'IHT.