By LINCOLN SILIAKUS

Please forgive me, but we're getting spiritual today. We're going to talk about Robert Parker.
For Parker still floats over Bordeaux as God floats over the Bible. You'd think that the obsession would go away, but if you give any vintner over here time to take a breath, you can be sure he or she will burn your ears with the Holy Trinity of terroir, taxes and today's subject.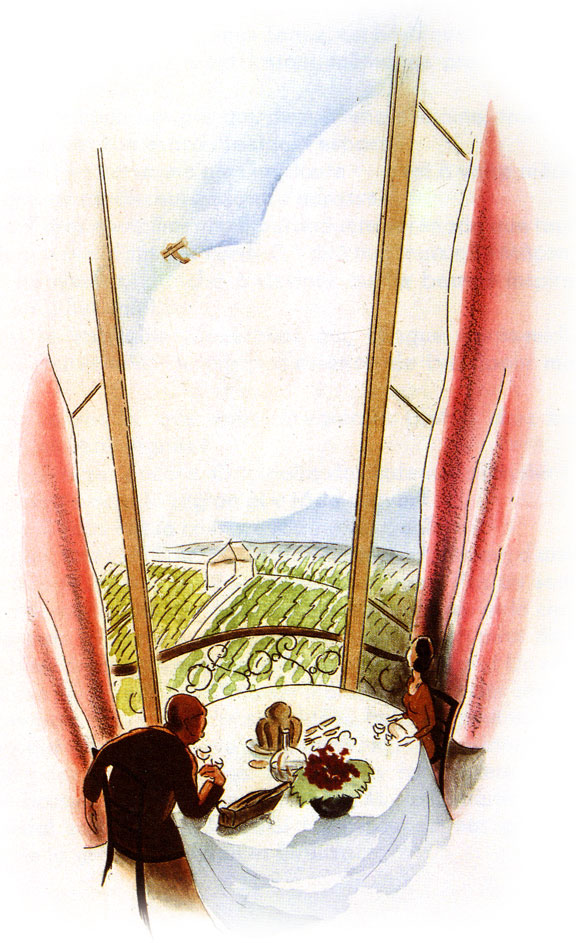 When Gilles Paquereau, cellar master-poet at Château Pape Clément in the southern suburbs of Bordeaux at Pessac- Léognan, mentions "our friend Bob", a soft, floating, ecstatic look sweeps across his face. The rapture is reciprocated. Parker is generous with Pape Clément, which selects each grape by hand under a process robustly "godfathered" by actor Gérard Depardieu. Gilles is one of thousands of Bordelais who owe their diamond lives to Bob Parker.
SEE BELOW PARKER : « LE VIN FRANÇAIS…
Parker's shadow also falls over Burgundy, although it's a lot thinner there. Just the other day a fellow I obviously won't name told me: "The critics can all go to hell. It takes us a year in the vines and 18 months in the barrels to make it, and they judge us in 30 seconds". He then gloated over the libel case years ago that effectively pushed Parker out of the valley. Mind you, I didn't need 30 seconds to realize that his brew was acidic bilge.
Generally, though, Parker is less reviled in France than merely dismissed. The French word for simplification is vulgarisation, and that's exactly what he does with his points system for scoring wines out of 100. From the French perspective, he makes it too easy for people with nouveau riche palates. The French may be like starry-eyed four year old girls, cuddly and whispering and breaking into tears if the slightest thing goes wrong, but at least they live a life full of mystery. They see Americans as young boys who kick things and want everything explained. My friends squirm when points are mentioned: as one of the Maker's greatest inspirations, wine defies having crude numbers put around it.
On the other hand, British commentators are writers; literary types who were born with silver pens in their hands, and went to Oxbridge. Parker, a mere lawyer, just doesn't have the same class.
Indeed, his greatest feat, surely unintentional, may be the way he has forged links between the French old guard and the country's longest enemy, and the wedge he has driven between two supposed blood allies. British writers have a somewhat aristocratic disdain for the vulgarity of certainty: "who would think of trying to rate Manet and Monet", sneers Hugh Johnson in his marvellous autobiography. And the trans-Atlantic spat between Parker and the irrepressible Jancis Robinson over the 2003 Château Pavie (Parker called it a brilliant effort, Robinson described it as ridiculous) is now as mythical as the 61 Château Latour. In fact, Robinson may have been generous. Her compatriot Clive Coates said: "Anyone who thinks this is good wine needs a brain and palate transplant."
I mentioned this recently to Louis Barroul at Château Saint-Cosme in Gigondas. We were standing next to his cuve cut into the rock by the Romans. He raised an eyebrow. "I never see the Brits," he quipped. "But Bob comes here every year and tastes everything I make, even the simplest. He works hard."
That's the consensus. Parker, with his little red book, wafts his famously insured nose over a hundred wines in a session. I suspect that this very conscientiousness is what most upsets wine lovers, or at least those of us who don't own private jets. It is getting hard to find great wines that Parker has not scored. As any wine retailer will tell you "less than 85 you can't sell it, over 90, you can't get it".
On the surface, Parker is the quintessential American success story. He fought pin-striped snobbery with hard work and crashed through to become the undisputed king. In the end, though, his sin may be that he is too French, too hard to pin down. Etrangers are not supposed to be paradoxical. He may like powerful, fruity, explosive wines, but he also likes challenging ones. His enthusiasm is infectious, even if his descriptions can be the linguistic equivalent of Las Vegas, or as syrupy as some of the wines he has to sip for a living. He describes one of Patrick Baudouin's botrytis-driven Loire valley wines as "simply stupefying… you detect the aromas of a myriad of jammy fruits… unimaginable for anyone who has not tasted it." His love for France jumps out of the page, and he does his best to talk French when he is here. Yet, he correlates America with democracy, and there's always those irritating points.
The last word should go to VINEXPO chief executive Robert Beynat, who says in this edition: "…Bob is a guru… What we need now is a Chinese Parker." Bob Parker may not be God, but his feet don't reach the ground in France, and maybe they won't soon in the Middle Kingdom. No doubt a big issue this June 07 in Bordeaux.

Lincoln Siliakus – May 9, 2007 – 818 words – End
ROBERT PARKER : LE VIN FRANÇAIS RESTE LA RÉFÉRENCE MONDIALE
Le célèbre et controversé critique de vins américain Robert Parker estime que le vin français reste la référence pour tous les pays qui produisent des grands vins, dans une interview parue jeudi 17 avril 2008 dans Le Figaro.
« Sa grandeur et sa qualité intrinsèque sont devenues des indicateurs influençant les vignerons des autres pays dans l'évaluation de leur production« , déclare l'auteur du Guide Parker des vins de France (Ed. Solar) dont les notations sont particulièrement redoutées par les producteurs. Selon lui : « Les vins français d'aujourd'hui ont considérablement progressé dans la qualité, même en années difficiles« .
Robert Parker juge par ailleurs la globalisation du marché du vin « très bénéfique aux producteurs : ils ont aujourd'hui la possibilité de vendre dans tous les pays où l'intérêt pour les bons vins prédomine » au moment où « la consommation de vin se popularise« , ajoute-t-il.
Le 2007 mieux que moyen
Concernant le millésime 2007 de Bordeaux, qu'il vient de déguster en primeur, Robert Parker estime qu' »il se présente bien mieux » qu'il ne le pensait et qu'on peut le comparer « à des millésimes comme 1997, ou peut-être 1999. Il a dû endurer un été désastreux. Heureusement, le temps sec, chaud et ensolleillé de septembre semble l'avoir sauvé« .
Les meilleurs châteaux « n'ont pas la densité, la structure et la puissance des grands millésimes, mais ils auront de la finesse, de l'élégance et d'une manière générale seront bien équilibrés« , affirme-t-il. « En revanche, les vins de qualité inférieure », qui constituent la majorité de la production, « sont sans relief, avec un goût herbacé, voire végétal. Globalement, ils sont décevants« , ajoute-t-il.
AFP – 17 Avril 2008 – 260 mots – End